With the holidays behind us and Easter still a way's off, February can be a tough time to keep the kids entertained. But nothing cures winter boredom like a little creativity! These clever indoor garden crafts are a great way to get your kids (or grandkids) excited about the season to come.
Cute Indoor Terrarium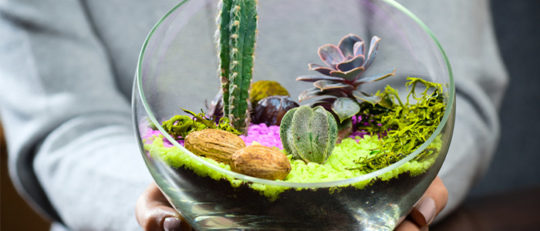 The ground may be frozen, but kids can still get their hands dirty! Terrariums are a trendy way to showcase a tiny plant collection. You can make this budget-friendly craft out of an old fish bowl, a transparent plastic container, or a chic thrift store find.
Simply choose your container, add the substrate, and plant your favourite succulent! Succulents are hardy houseplants that require minimal care, so they're good for kids who are just getting into gardening.
Want to make this craft a bit more magical? Add coloured rocks and miniatures to turn the terrarium into a fairy garden. If your kids aren't into fairies, you could instead add toy animals, cars, Lego, or whatever sparks their imagination. It's all about creativity!
DIY Bird Feeder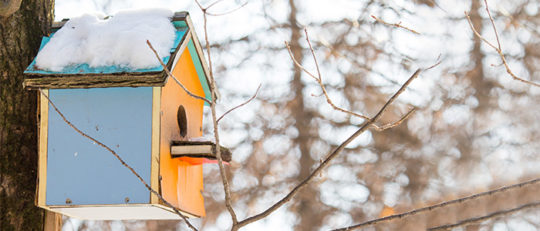 Is your kid a fledgeling ornithologist? This easy DIY bird feeder will help bring the birds to your backyard. All it takes is a pinecone, a string, and some peanut butter. Kids who love nature will delight at the sight of the feathered visitors (and the occasional squirrel) picking seeds from their homemade pinecone bird feeder!
Not only is this craft fun and easy, but it'll benefit the garden as well. Feeding the birds will encourage them to nest nearby, so when spring comes, they'll help to keep the insect population down. Fewer bugs means fewer bug bites, and that makes your gardening experience all the better!
Eggshell Seed Starters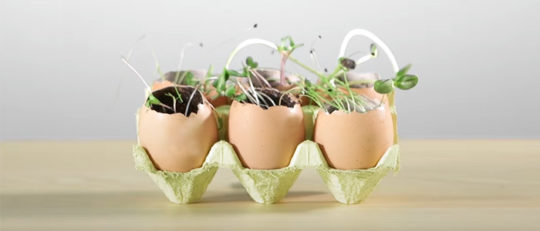 While it's still too early to start planting, most Canadians can start seeds indoors in late February. This is a great opportunity for a garden craft to make with your kids.
One of the best seed starters also happens to be the most affordable (and adorable): eggshells! They're the perfect shape and size to hold just enough soil to germinate seeds. Once the seedlings sprout in the spring, you can plant them directly in the ground, and the shells will provide valuable calcium to their growing roots.
Along with helping to plant the seeds in eggshells, your kids can paint the carton and shells to tell them apart. When spring comes, you can put them in the ground together!
Bee Hotel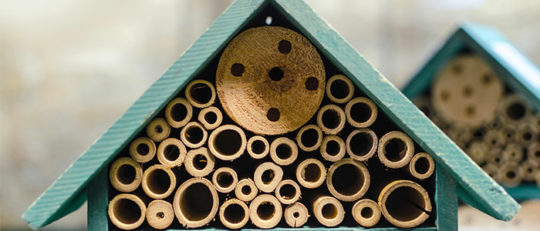 Did you know there are over 500 species of bees in Canada? Unlike the honeybee we're most familiar with, most native bees don't live in hives or make honey. But they are hard-working pollinators that play an important role in the garden.
Building a bee hotel is a fun way to encourage these helpful insects to live near your garden. Plus, it's an easy garden craft to make with the kids! Just find an old bottle or jar and fill it with bamboo sticks. You can dress it up with a coat of paint or a handmade sign. Come summertime, your kids might catch a glimpse of a busy bee checking into the hotel.
Painted Garden Stones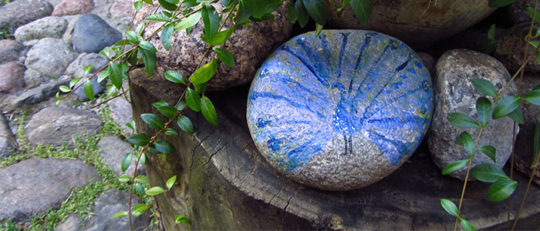 This classic kid craft is just as fun as ever. With a bit of paint, a pebble can become anything you can imagine: a friendly ladybug, a fierce monster, a funny face, or a far-off planet. A coat of lacquer will protect the stones from rain and snow so you can place them in the garden.
Planning a vegetable garden? Turn stones into markers to label your crops!