Hanging baskets are a pleasing addition to any house, apartment, condominium, or business, offering life, colour, and vitality no matter where you place them. If you lack the space for a garden or have physical limitations, hanging baskets can also be a wonderful way to still experience the beauty and tranquility flowers provide.
You can have baskets with uniform colours or mix plants to make each basket truly unique. Gardening is a wonderful form of self-expression and don't be afraid to get creative when designing these.
Hanging baskets can accommodate many different types of plants; here are some annuals that consistently do well in them and look amazing.
Supertunia Petunias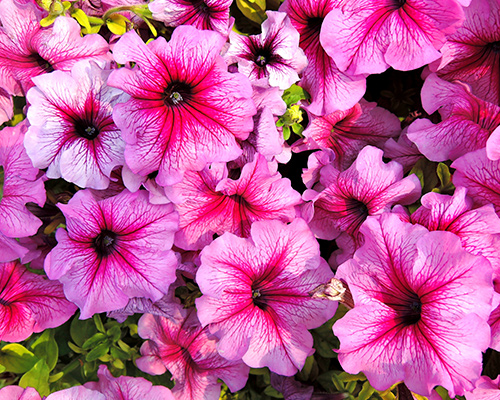 If you can place your hanging basket in an area with a lot of sunlight, supertunias are an excellent annual to choose. They have large, lovely blooms and are very good at handling more extreme weather. Two things to remember: plant supertunias on their own, because they tend to grow quite large, and feed them frequently so they retain their health and vibrancy.
Superbells Calibrachoa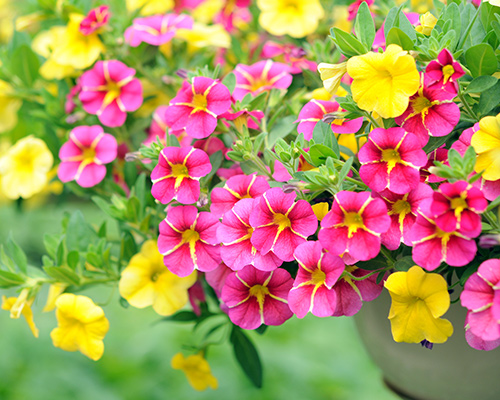 Another plant that does very well in direct sun, Superbells are extremely eye-catching and can produce flowers throughout the summer season. Choose a spot that gets at least six hours of sunlight daily, as this will help ensure regular blooming and maintains the plant's colour. We recommend biweekly fertilizing.
If you like to mix plants together in your basket, Superbells are a good choice because they are not as aggressive as some flowers.
Summer Wave Blue Torenia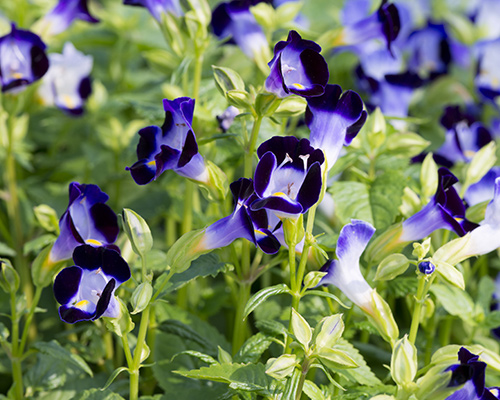 Fragrant and highly appealing to the eye, this annual looks lovely spilling out of baskets. Be sure to plant it near the edge to ensure it does indeed trail over the side. It also blooms more throughout the season than other types of Torenia. In contrast to our first two candidates, the Summer Wave Blue Torenia does not do as well in direct sunlight. Reserve it for areas of your home with partial shade, and try to maintain evenly moist soil.
Million Kisses Begonia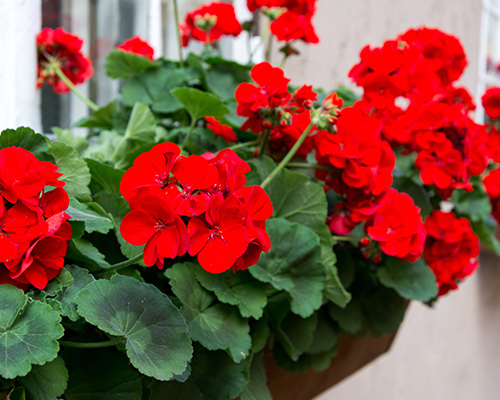 This is another prime trailing plant that blooms extra-large double flowers throughout the summer. The Million Kisses Begonia does well in areas with less than six hours of sun, but be careful not to over water it. In fact, these need very little care and hold up well in less-than-optimal weather.
Ivy Geraniums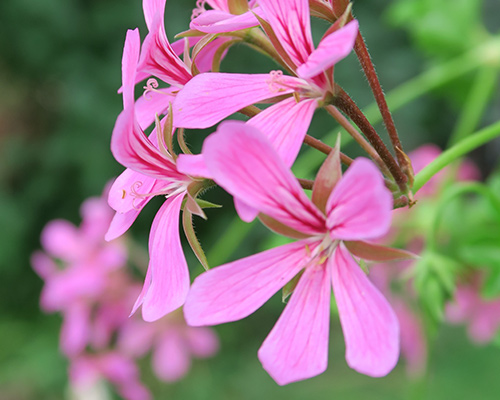 Ivy Geraniums, another recommended selection for those who prefer low-maintenance plants, have lovely trailing vines that can reach a foot and a half in length. This garden and basket staple is available in a variety of shades and able to withstand sun for much of the day. The stems tend to be rather fragile, however, so choose an area away from strong winds, pets, and little children.
Need more information on how to create the perfect hanging basket? Premier Tech Home & Garden's experts are happy to provide the advice you need to get the most out of your garden set-up. Contact us today!